Bench, The Horror Movie: The Story Behind The Shoot.
Just in time for spooky season, we've launched our Fall Winter '19 collection with a sartorial horror that captures the classic cinematic experience of going to see a B-list thriller with your best friends. We've called it (are you ready?)… Bench, The Horror Movie. 

The story follows an eclectic group of eager movie goers, from youngsters to the young-at-hearts (and a saltier-than-your-popcorn teenage couple), into the eerily timeless Bench Cinema, where they've come to see the latest thriller to hit the big screen — that fear evoking entity that haunts our days, our nights, our unsuspecting city streets: The Bench.
Vancouver-based photographer Conor Cunningham  (@mescondi) brought his sharp eye and a style that conjures 90s nostalgia to the photoshoot, elevating our cheeky take on a day at the movies. The shoot ushers us into the real-life Cinema L'Amour in the heart of Montreal's Plateau neighbourhood, a theatre with history as iconic as its name. As one of Montreal's oldest movie halls dating back to 1914, the cinema has retained almost all of its original interior, from the authentic seating to its beautifully ornate balcony. Throughout the mid-century, the cinema was modernized with a campy colour palette that's left echoes of past decades haunting its halls, preserving it as a last standing relic of retro-chic and exactly what we were looking for.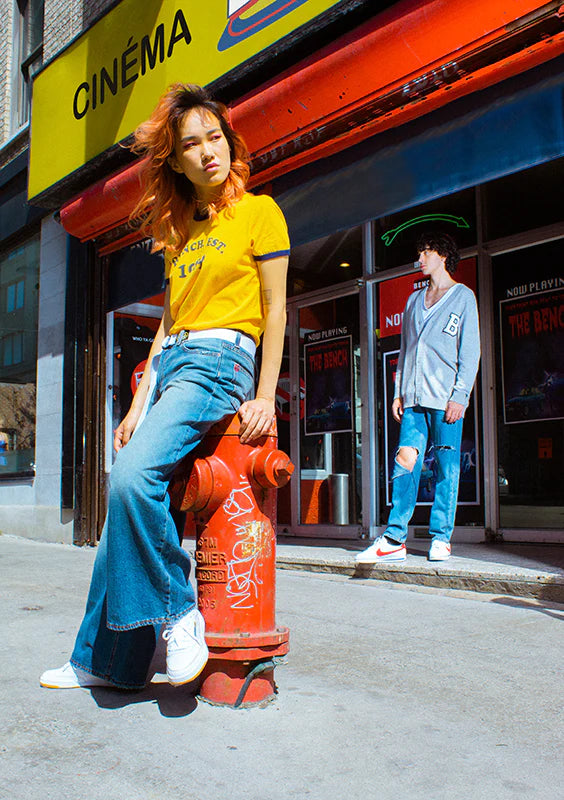 With its classic red cushioned seats, brown wooden floors, yellow concession stand, and splashes of primary colors, the cinema set the perfect scene for us to build on a 70s-inspired color palette. Our Fall Winter '19 collection features polos, varsity cardigans, ringer tees, and plaid shirts in shades of olive green, galaxy blue, merlot, and butterscotch — styles and colorways that nod at the 70s but also share DNA with 90s streetwear…because everything old is new again.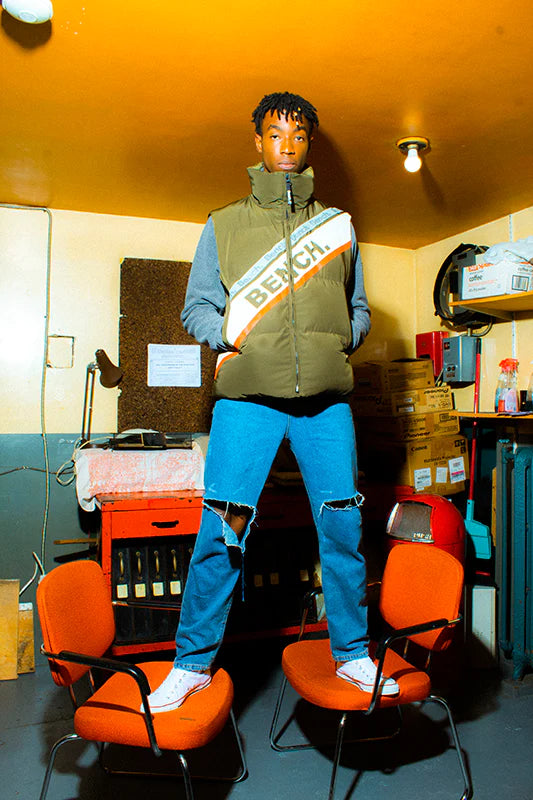 Our new collection is all about acknowledging the past while moving into the future. From velour tracks to puffer vests, grunge plaid to graphic tees, we draw inspo from the iconic streetwear of the 90s and pay homage to our roots as a brand that got its start in the UK's music and skate scene. As our history continues to propel us forward, this marks the first season that we've designed a collection completely in house at our Montreal HQ. This is big news, and we're excited to keep innovating and making clothes that define the cultural moment, while looking at our past to lead us into the future with fresh ideas.